26th October 2020

"A visit to Broomhall House will imprint a memory you will never forget" Lord Charles Bruce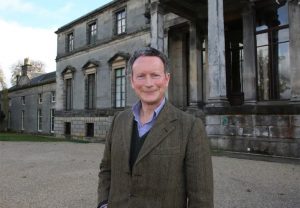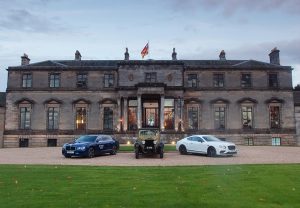 Broomhall House is an exceptional and unique experience for clients coming to Scotland. For the first time since it was built more than 300 years ago, Broomhall House, the ancestral seat of the Earls of Elgin and the Fife home of the family of King Robert the Bruce, has opened its doors. 
Holly chatted to Lord Charles Bruce, the heir of the 11th Earl of Elgin, to discuss the wonderful history and incredible artefacts that clients see during a private visit to the house. Click here to listen to full podcast.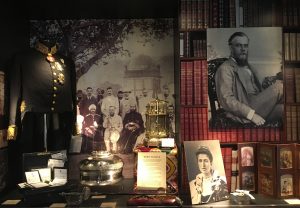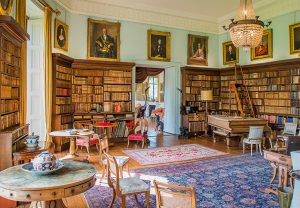 "You will learn about the colourful history of Scotland & the incredible artefacts that rival any museum visits"
Each experience is different and tailored to client's particular interests. A private guided tour conducted by Lord Bruce himself, will showcase this remarkable property and bring his extraordinary family history to life. The Bruce family has been at the heart of Scotland's story for centuries; the most famous family member is the now legendary King Robert the Bruce who successfully defended Scottish independence in 1314.   
The house contains an internationally important collection of fine art and artefacts, including the 14th century Sword of State of King Robert the Bruce, which is kept in front of a fine 16th century carved mantlepiece created from sections of the royal marriage bed of James VI and Anne of Denmark, who were married in Denmark in 1589.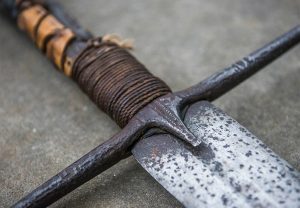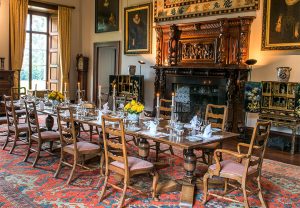 The property also has a wonderful collection of books which include a first edition of "A Geneva Bible" c. 1560 which belonged to one of Scotland's greatest Protestant reformers, Rev. Robert Bruce. 
TESTIMONIAL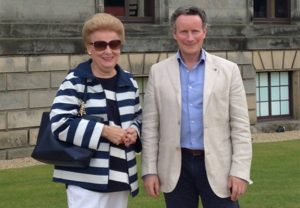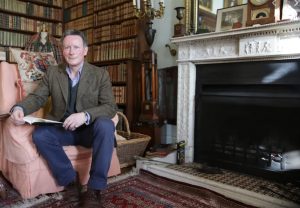 Valerie Wilson, Founder of Valerie Wilson Travel had this to say,
"A personal tour of the Earls of Elgin ancestral home by Lord Bruce himself was a very special treat for me, he brought alive Scottish stories dating back to his ancestor, King Robert the Bruce. Very special and a definite highlight of any trip! "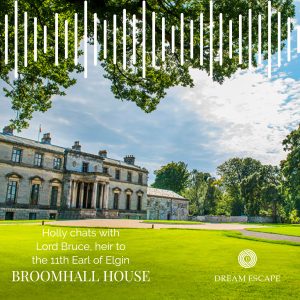 Sample itineraries that can include a visit to Broomhall House :-
Extra Information about the artefacts referenced in the podcast :-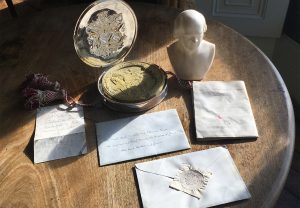 Pic. 1. These items shown here include the Full Powers granted to Lord Elgin as a minister of the crown with instructions to negotiate a commercial treaty with China in 1858, together with the seal of Queen Victoria; personal letters from the Queen addressed to the Qing Emperor were returned unopened and have remained in our archive ever since.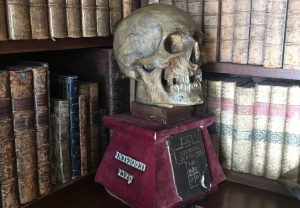 Pic. 2. This cast is taken from a mould made in 1818 when the king's body was accidentally disturbed during the refurbishment of Dunfermline Abbey. King Robert was buried in a crypt beneath a spectacular marble tomb in 1329 but unfortunately it was totally destroyed in the Reformation. On discovering his body in 1818, researchers identified over a dozen further Royal burials in the choir of the abbey, providing incontrovertible evidence that Dunfermline was once the royal necropolis of Scotland, equivalent to Westminster Abbey.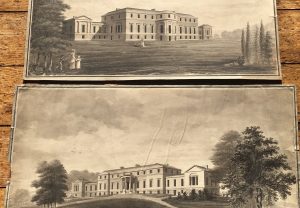 Pic. 3. Drawings of the house from 1798.