23rd September 2018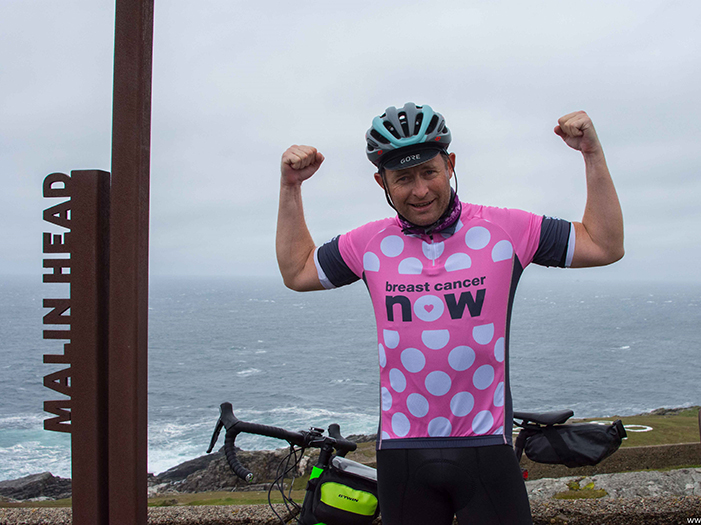 Update on David's Wild Atlantic Way Cycle.
Check out this amazing video of David finishing his Wild Atlantic Way Cycle Challenge, by Bren Whelan at Donegal climbing.
26th September, 2018
He did it!
We are extremely proud to say David has completed his Wild Atlantic Way Cycle Challenge. After 20 days in the saddle he arrived in Muff, Co. Donegal to be welcomed by Holly and a very well deserved bottle of Champagne. David's epic cycle started at Kinsale, Co. Cork and followed the beautiful Wild Atlantic Way for 2195 km along steep coastal roads, twisting mountain climbs and welcoming towns and villages not forgetting extreme gales and storms. Click on the links below to see photos and videos documenting his journey.


_______________________________________________
A huge thank-you to everyone for their support and continuing donations to Breast Cancer Now, Macmillan Cancer Support and 40-tude. Donations are still being accepted until 26th Dec, 2018, so please keep them coming. 

_________________________________________________
If you would like to see The Wild Atlantic Way for yourself by chauffeur instead of cycle, please click the link below for our latest inspiring itinerary.
__________________________________________________
24th September, 2018
David now has 3 days to go to complete this epic challenge. Monies raised currently stand at an incredible £6780.00 for Breast Cancer Now, 40-tude and Macmillan Cancer Support.
David has battled along the Wild Atlantic Way with its dramatic scenery and eye watering headwinds competing with the best of the Irish weather including Storm Ali. David's biggest challenge however is that he is doing this as a solo cyclist. Unfortunately the event was cancelled a few weeks before the starting date but David decided to continue the challenge under his own steam, the ultimate in mental and physical endurance.
Please continue to support David and follow his journey on Facebook.
_________________________________________________
1st September, 2018
On September 8 – 26th 2018, Dream Escape's owner, David Tobin is donning his lycra and embarking on Ireland's greatest cycling experience, the 'Wild Atlantic Way Cycle Sportif.'
Dream Escape is expert at designing luxury tailormade trips incorporating this stunning coastal route but this time David will be experiencing the same magnificent route from the saddle.
This 20 day, 2152KM cycle takes in the beautiful Wild Atlantic Way from Kinsale to the Inishowen Peninsula passing through Ireland's most dramatic coastal scenery. The epic ride incorporates sweeping descents and not so enjoyable climbs, engaging local communities, international athletes and enthusiastic amateurs.
Money raised from David's venture will be donated to various cancer charities including 40tude 40tude.org.uk – a charity whose focus is to help raise both awareness and vital funds to help cure colon cancer.
Both David and all of us at Dream Escape would be appreciative of any donations you can make.