15th September 2019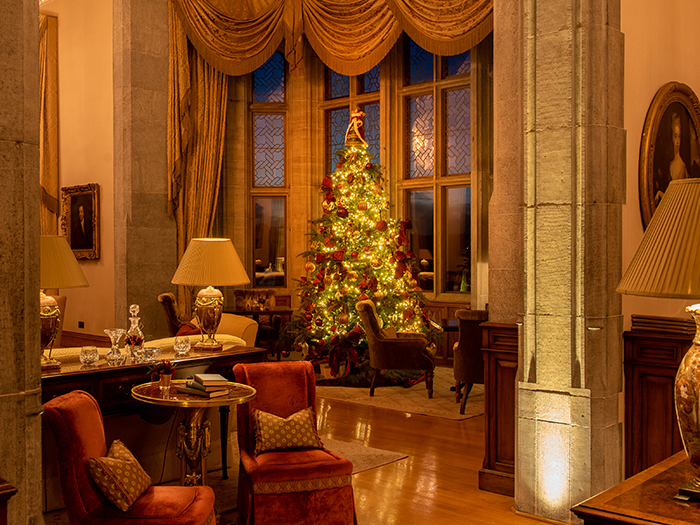 Whether your ideal festive season is spent in the city enjoying the twinkling lights and warm welcome of luxury hotels and apartments, or if you prefer an escape to the country, in a stately Christmas castle, a homely lodge or a secluded family private property, Dream Escape have the perfect programme.
______________________________________________________
Scotland is a wonderful place to be at Christmas. Start with a stay in one of Edinburgh's iconic hotels and visit Edinburgh's famous festive Christmas Market. Celebrate with a festive afternoon tea, featuring the Balmoral Christmas cake with marzipan and Grand Marnier and the Balmoral's own smoked salmon.
Enjoy a holiday stay in one of our exquisite private properties, lavishly decorated to welcome you to a magical 'home from home' Christmas. We will pair you with the perfect property keeping all age groups engaged and entertained.
Stay in the Highlands with the luxury of a Butler or perhaps an in-house cinema and Santa visiting on a sleigh! Enjoy invigorating outdoor activities followed by warm welcoming open fires, whisky tastings and mulled wine and hot chocolate to warm your hands and leave your cheeks rosy. A choice of ranger guided walks and hiking in the beautiful Scottish Highlands, star gazing, horse and carriage rides, Christmas treasure hunts and falconry, will all mean a marvellous and memorable holiday.
Create lasting memories with a house party stay at the only inhabited castle on Loch Ness. Family fun and group activities are endless from Segway trips and 4×4 rides along the Loch Ness shoreline to  indulging in delicious cakes from the winter berries in the walled garden.
______________________________________________________
Enjoy the hustle and bustle of the city at Christmas, enjoying shops, shows and unique guided experiences to inspire and entertain. Browse for gifts in iconic stores, maybe enjoying a behind the scenes tour or a visit to Santa! Enjoy a Christmas pantomime or a West End show with VIP backstage access.
Experience a musical stay in one of our top London hotels. Enjoy a festive afternoon tea before marvelling at a Christmas concert by the Royal Philharmonic Orchestra at their historic home, Cadogan Hall in Chelsea.
London's earliest Christmas fetes were known as frost fairs, held on the River Thames on five occasions when it froze over. They were a cross between a Christmas market, a circus and a raucous rave. Visit modern day 'Frost Fairs', Winter Wonderland in Hyde Park and the Southbank's Festive Wintertime market. Take a stroll along the Thames to board the iconic London Eye where a private capsule flight awaits!
Skate under the stars with some of the Capital's stunning backdrops. From the 18th Courtyard of Somerset House, The Natural History Museum and Henry VIII's Magnificent Palace at Hampton court to maybe the most dramatic setting in London; beside the illuminated castle walls of the Tower of London.
Visit one of England's finest palaces for a truly magical experience – a towering tunnel of light, woodland laser garden and scented fire garden. The children will love 'Alice in the Palace' a festive indoor Trail where the Palace and surrounds are transformed into a topsy turvy wonderland complete with mirrored hallways, illusions and make-believe.
______________________________________________________
Stay at one of Ireland's luxury estates for an unforgettable Christmas.
Soak up the warm ambience and outstanding hospitality in a grand manor house in County Limerick. A truly enchanted setting that captures the magic of Christmas, impeccable service at every step and a warm Irish welcome. Indulge in feasting and festive cocktails, carols and carriage rides around the estate and cosy evenings with family movies in the private luxury cinema. Fill the days with estate activities and occupy the evenings with live music, sing-alongs, gourmet suppers and whiskey night caps.
Perfect for a family or group of friends, enjoy a stay at an exquisite Castle on Lough Corrib. Enjoy seasonal activities, hang homemade stockings from the magnificent chimneys, roaring log fires and a true Irish welcome. Indulge in banquets fit for royalty and the services of the Duke's personal butler. Take walks in the grounds learning of the history and heritage of this magnificent estate and carol singing under the stars.
For the more sporting, a private house on a world class golf course may hit the mark. With the opportunity to tee off from your doorstep, take lessons with the Pro and enjoy the property's private cinema, pool, chef, private falconry and archery. Everyone is certain to leave refreshed and revitalised.